Show & Tell
This page aims to reflect on and explore the process of making artwork and what has to be considered when showing and telling about creative experiences. Exhibiting in a gallery or presenting at a conference are 'big' processes practically and emotionally. Yet making art or talking about it in a smaller or less formal setting is also a 'big' process.
Insider Art are interested in what motivates us to make? Why do we want to show? How does the experience of facilitating others to make and/or 'exhibit' affect the relationship with our own art making? What should we be mindful of? Do we have to think about the people who will see our work?
Show and Tell is a space for pieces from artists whether also therapists, arts & health workers or service users. It does not require any particular academic format or style but does need to be interesting! If you'd like to Show and Tell about your process or project get in touch by email and we can discuss.
All copyright for text and images belongs to the artists. We can put you in touch with them to negotiate about use but please don't steal work!
On this page: JANET SAINSBURY (artist) LYN BAYLEY (artist), CAROL HARVEY(artist), SARAH COGGRAVE (artist), More Show & Tell Here.
---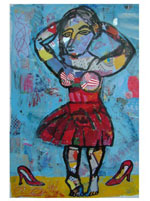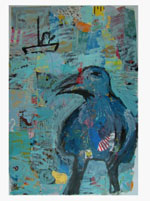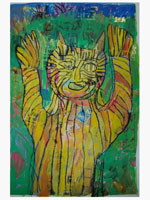 Red Dress, Rescue Me, and Scaredy Cat.
I paint because that is what I do: Janet Sainsbury
I paint, using collage, ink, gouache and other mixed media.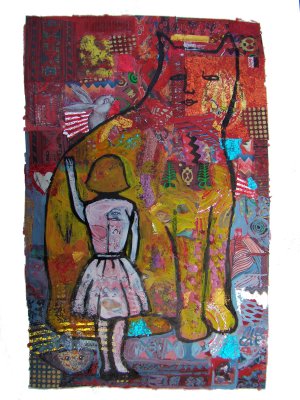 Magic Cat
I have always drawn and created pictures, it seems entirely natural to me to pick up a pencil and start drawing. I doodle and sketch continually and this way I generate ideas. I am inspired or influenced by my mood and what is happening in my life. I look at and explore techniques of other artists and I have particularly been drawn to Paula Rego – especially her earlier work; Picasso; Patrick Hyman and collage artists such as John Stezaker.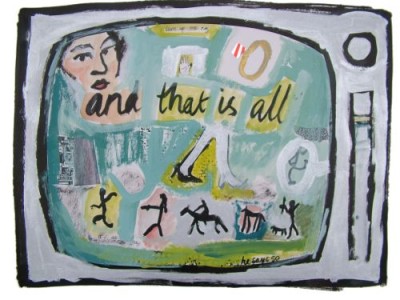 And That Is All
I studied Illustration at Brighton University and my work has been described as illustrative in its use of pattern and graphic imagery and suggestions of hidden narratives. I am drawn to much illustration work and love to feed off ideas from popular media - such as packaging, advertising, fabrics, greetings cards, magazines signs, etc. even if it is not immediately obvious in the finished pieces, these images that surround us all every day, have fed into my work in some way. I have developed themes in my work - animals, cats, and birds and like to explore our relationships with animals - providing a good metaphor for human relationships and inviting humour and ambiguity to follow. I work in quite a spontaneous way; I like to work quickly so as to keep my focus and energy together.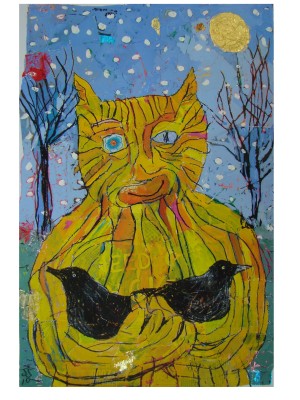 Let Me Look After You
I paint because that is what I do; it makes me feel complete and helps me feel more positive and optimistic about the world. I have phases when I find it harder to work, usually brought about because I have too many other distractions and jobs get in the way. I find it hard to work again and re-focus after a period away from my studio - that is, my spare bedroom. It is essential to me that I have a separate space where I know that I won't be disturbed too much. I am seeking to express myself, my view, and my voice in a sea of other artists' voices - and strive to believe that I do have something unique to say. I want my work to be beautiful, funny, a bit ambiguous & mysterious, personal, thought provoking. I enjoy art that makes me smile. I enjoy images that have a human element to them and tackle human subjects..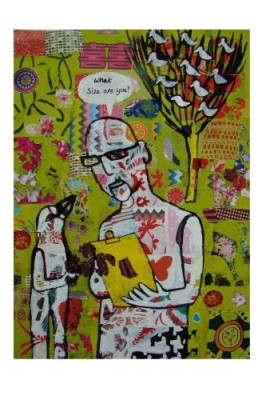 What Size Are You
It is difficult to describe how I know a picture is finished; it just feels right and complete. I sometimes have pieces in my studio that I rediscover having put them away for a while and then work on them again. I look through older work and see different things than I did at the time of completion. My relationship to individual pictures and my work overall changes all the time. When I see my work hung in an exhibition I am able to look at it differently and see how certain images work with each other and relate to the space.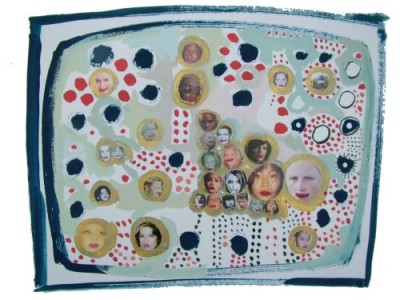 TV Dots
Janet's work is for sale. For further information please email: Janetr63@yahoo.co.uk
To see more of her work: http://www.janetsainsbury.co.uk/home.htm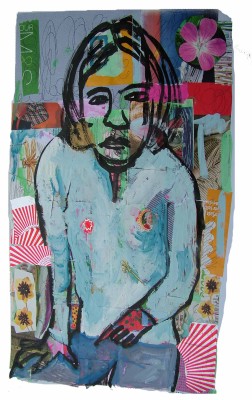 Sporty Portrait
---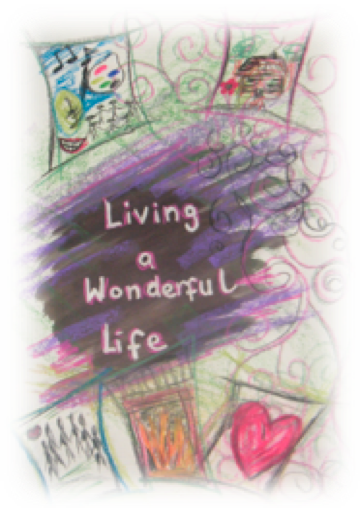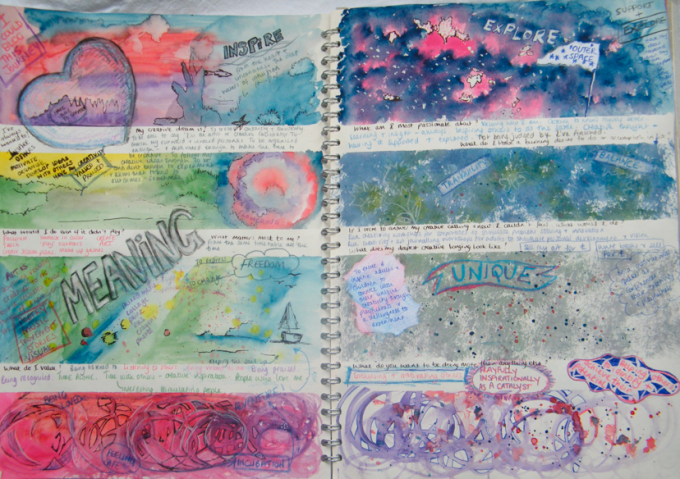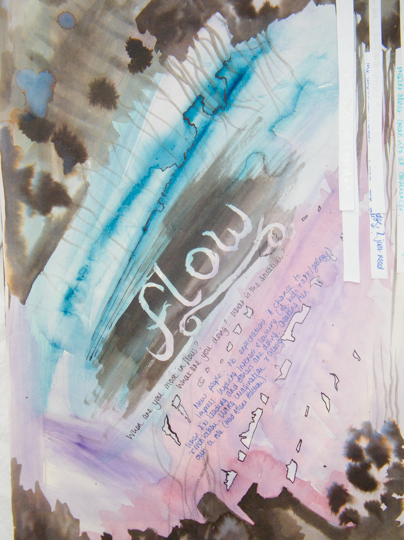 Discovery Through Art Journalling, My Journey: Lyn Bayley
On The Ropes
The first time I went on a high ropes course I thought I'd be able to give myself enough positive talk to overcome any fears I may have had. I was walking the beams, one just above ground level, one middle height, the other about house height. I began with the lowest – easy, I told myself the next one would be the same, I was safe in my harness, so no need to feel afraid. I hadn't been prepared for my instinctive brain kicking in and telling me to be terrified, I was at tree?top height and became breathless and shaky. I told the facilitator I couldn't walk the highest beam, her advice was, 'just climb the pole and see how you feel when you get there'. That didn't seem too difficult to achieve, so I did it and of course when I got there I decided to take a step and then another, until finally I had reached the other side. I have used this metaphor so many times when developing leaders and helping them to achieve results; it's essential to have an end goal in mind, but don't let that affect your performance, break it down into small achievable steps and stop at each point to understand what you have learned. Great metaphor, so why do I find it so hard to apply to my art?
Taking Away Judgement
At 42 I've just returned to studying Art and in class we did a drawing exercise. The first time I had really drawn for over 20 years. I wanted to be judged as 'good', so I tried to do what I thought I 'should' do. Then we did the same drawing without looking at the paper, the change in the feel of my drawing, was amazing. It was interesting and had a different energy, because this time, if it was a bad drawing no?one could judge me, because I hadn't been looking!
I realised that I was trying too hard and focussing upon what I thought the outcome 'should' be rather than the process, which would deliver the outcome. So I wanted to explore this further. I also observed this in my class?mates, as soon as an individuals internal dialogue changes and they let go of their own and others judgement their art becomes more interesting, the freedom of expression can be tangibly observed.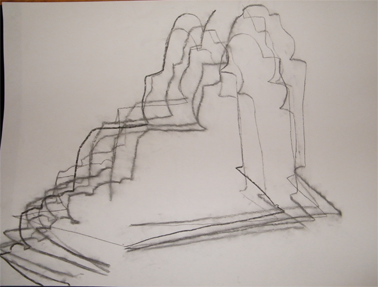 Blind Still Life Drawing
Discovering Art Journaling
I have always written a journal and find it great therapy to splurge my thoughts, allowing me to clarify and better understand what's going on in my sometimes over?full head. I discovered art journaling, through surfing books on Amazon, this and the label of 'mixed?media' art were new to me and combining art and writing is something which will give me intuitional expression, as well as recording and analysing thoughts, allowing me to reflect. The process of art journaling gives me a way of utilising the power of both the left, logical and analytical brain and the right, creative, big picture brain.
I want to explore whether art journaling helps me to 'loosen up' artistically, because it's not supposed to be 'art' which will be viewed by others, so it focuses upon the process, instead of the outcome and allows me to become playful.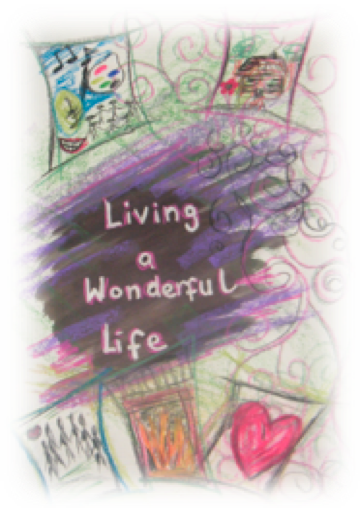 Beginning my Journaling Journey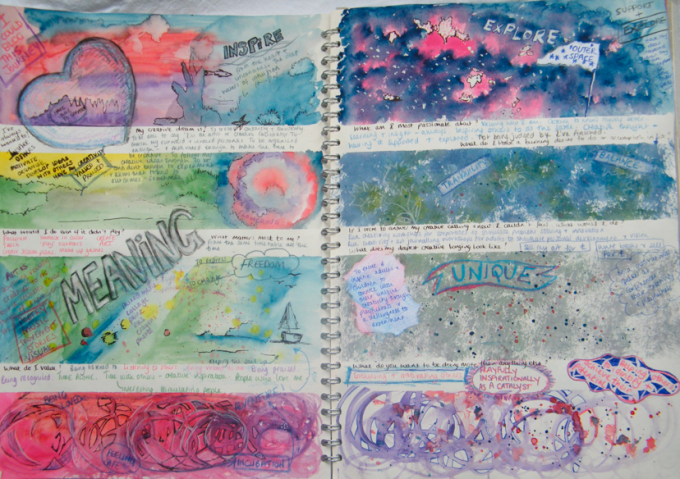 Heart and Meaning
Mapping My Journey
So in 2011 I hope to be consistently art journaling my thoughts, worries, hopes, expectations, selfrealisations and achievements. To motivate me to do this I'm going to blog this journey. The interesting challenge for me will be that in the act of 'Showing and Telling' will I begin to focus upon the outcome, rather than the process? It's a human dichotomy that we function more effectively when we have clear visions and goals to focus upon, un?yet, this often prevents the journey from being as enjoyable as it might otherwise have been had we not focussed upon the end result. However, without an end result in mind, we might never begin as we don't know which direction in which to head! Art offers a powerful metaphor for life.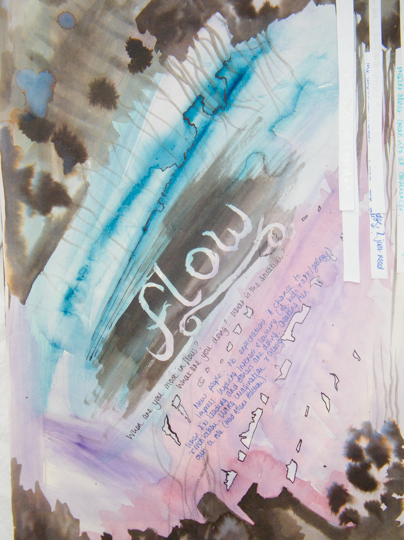 Getting in the Flow
Lyn is currently working as a volunteer at Ilminster Arts Centre, Somerset and in 2011 is planning to work on an art journaling project with local schools. She hopes to develop a career within the Arts, combining her previous experience as a Facilitator and Coach working with corporate organisations with inspiring people to re?ignite their creativity, whether this is working with individuals, communities or organisations. Her Blog will map via art journaling her journey of discovery as she finds out whether this is the career that develops, or whether she takes a different direction.
Follow her Blog at:
http://lyn-artjournalling-myjourney.blogspot.com
She can be contacted by email on smilelots1@hotmail.co.uk
---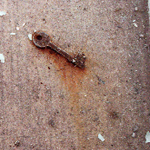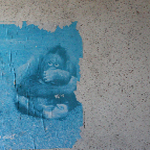 Details from: isolation, key and monkeys.
'fragments': by Carol Harvey
During 2008 I spent time within the old derelict buildings of a mental health and physical disabilities institution in the South West. This was one of the many colonies built in the early 1900's and my intention was of making art that pictured the lives of the people who lived and worked there and reflected on other institutions like this.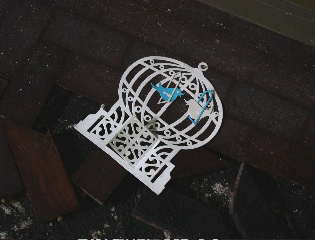 Birds
When spending time in these places I feel like an archaeologist piecing together the lives that have passed through and their existence within this setting. Research has been valuable in understanding the type of patients admitted to the 'colonies'. The era of excluding people with learning difficulties in the 1930's into purpose built colonies around Britain appeared to be well meaning but also cost productive/effective/financially viable as patients were trained in various occupations from house maid, carpenter, basket maker, saddle maker etc…. thus being able to contribute to their own upkeep. Most patients even if they were successfully trained in an occupation would rarely become independent as throughout their time within the hospital they would have become dependent on the system, or put another way, institutionalised. There is evidence that not only the disabled and people with learning disabilities were placed in these institutions but also young pregnant unmarried girls or children as young as 10 years old admitted for being disorderly. Mental breakdowns were also admitted. Once in the system it appears, that it could be very difficult to leave even for the 'recovered' patient. The asylum/colony in some cases becomes a hospital, home and prison.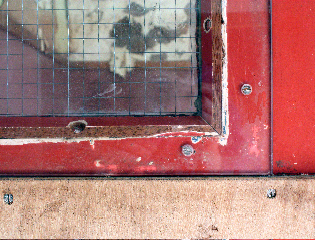 Isolation
As an artist much of my work deals with human emotions and experiences, I search for the traces left behind by people and find them in objects and materials. Although there has been very little evidence as much of the interiors have been stripped of content and in some cases even the flooring has been removed, there is still a sense of presence within these walls; Voices trying to tell me their stories. Through looking and listening I feel that I get a sense of the patients and the environment they were living in.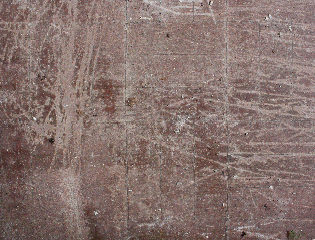 Floorscene
There is an urgency in wanting to keep the memories of this place and its people alive, for us not to forget but to keep learning and improving ways of supporting people with disabilities and mental health issues. And very importantly to acknowledge that the era of the institutional colonies existed affecting the lives of all that passed through its doors, and the lives of those families who had a family member admitted to the colony.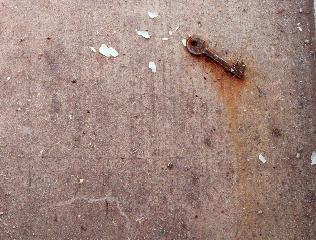 Key
The buildings were vacated during the early eighties when policies changed to place people with learning difficulties out into the communities in smaller units. These buildings are currently due for demolition.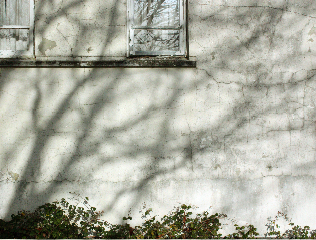 Outside
Wonford House hospital, where the 'fragments' exhibition took place, was built as an asylum for the gentry. First impressions from the outside were of a grand building possibly an estate, it doesn't appear to be a hospital. Ascending a wide staircase one enters a large lobby with a sweeping staircase; we are still convinced by its grandeur although the modern 'prevention of suicide net' stretched across the upper stairwell creates a disconcerting aura. The building doesn't give up its pretence before entering the corridor, which stretches the whole length and continues around a bend the length of the side wing. This passage is where the stories of patients, their families and staff appear to converge expressing not only history but emotions. The corridor is wide with high ceilings and large windows looking out onto a central courtyard. Off the corridor are many doors leading to rooms with views out onto the well-established front gardens. I imagine the gentry in single rooms surrounded by comfortable familiar furniture able to feel like they never left their own homes. In contrast patients in the colony would not have had the privilege of their own rooms, let alone their own clothes and rarely their own property. They would, if able, have had to partake in chores, look after other patients and work to produce a sellable product within a very ordered and institutionalised regime. Bringing photographs of a colony into Wonford House, particularly in the 'corridor', brought the two not so dissimilar emotional histories together and the fact that the facility is now mainly used as offices for mental health management and psychology created a very interesting contemplation around present and past practices.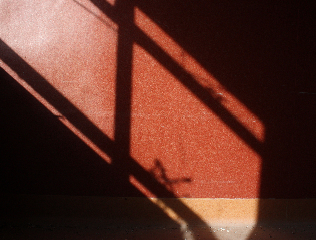 Isolation 2
'fragments' is a series of photographs from the interior of the institution picking up details of traces left behind whether it's a dropped key, marks on the floor, pictures used as interior decoration or shadows and reflections created by the space and objects. My aim was to find some of the emotions that people would have experienced and express them through art.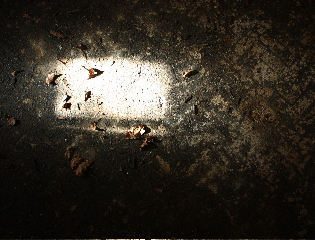 Light
Showing this work alongside David Maisel's work 'The Library of Dust' seemed so apt as being two sides of the same coin. His photographs of the remnants of unclaimed souls from the American state run psychiatric institution: The Oregon State Hospital exudes a presence even after death.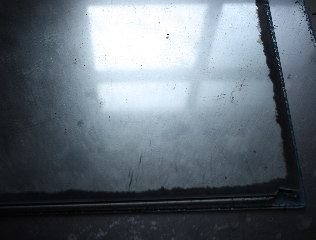 Light 2
When first approaching David Maisel's 'Library of Dust', individually photographed copper canisters, there is a sense of mystery surrounding them. They exude a natural beauty through chemical reactions between the copper canisters and the contents. All sealed tightly, yet escaping, emerging through its shell. One wonders of their actual size and their content but is soon overwhelmed by the depth and beauty they display as though each is a world of its own, viewed from space giving us a feeling of awe, a sense of miracle yet apprehension and feelings of vulnerability, these crystals formed over time can be wiped in an instant, our lives changed by events. When adding the knowledge that these beautiful canisters are holding the ashes of patients of Oregon State hospital during the period 1883-1971 not claimed by relatives, it somehow explains or reiterates the feelings of fragility and strength.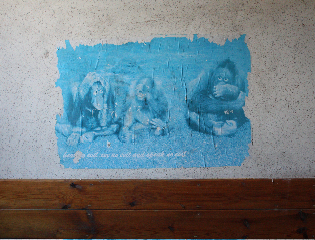 Monkeys
.
The frames into which the work was being placed were designed with health and safety in mind, made of aluminium with a Perspex sheet; these are a set size, permanently fixed to the wall and positioned at regular intervals in groups or on their own along the corridor, in some areas quite high. To place the work in the frame, each side of the frame turned out and clamped back into place with force and were then locked with an Allen key. Initially I felt confined in my choice of size, presentation and height with which I was asked to conform but as the project moved on it felt very poignant to the emotional content.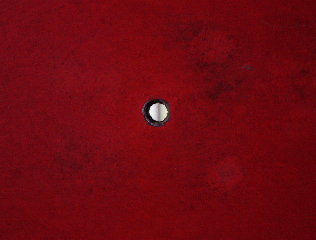 Peephole
The exhibition created interesting conversations and touched many to write their views:
'Very moving iconic images: simultaneously beautiful and unsettling (Library of Dust). Repetition of rectangular offset shapes in 'fragments' were very enclosing, containing, restricting. Use of light though made the images very beautiful to look at. Very thought provoking.'
'I think every piece of artwork has a place, and in the right place is beautiful. Although this 'necro art' is thought provoking, a psychiatric unit is not the appropriate setting. Moods can be low generally but this can unfortunately compound feelings of depression and death generally even if they were not in your thoughts beforehand.'
'I actually found it quite disturbing and not suitable for a hospital where patients want to focus on happy thoughts'
'Very thought provoking: raises all sorts of questions about mental illness and how it's treated by society etc.'
These comments in themselves show us how much more we have to learn about the effect of images in mental health and that art can be used very effectively to raise questions and awareness of the past and the present.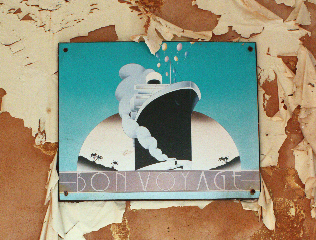 Bon Voyage
Carol Harvey December 2010.
---
Click here for previous Show & Tell 'exhibits' in the Archive.
Sarah Coggrave: artist - about eating disorder.
Sarah Gatter: artist ceramicist.
Kirk Stacey: artist -about obsessive compulsive disorder
Manya McMahon: artist photographer.
Tiffany Care: art psychotherapist - about bullying.
Marilyn Miller: artist and art therapist
Veronica Gosling: artist
Caroline Bruce: artist
Tati Dennehy: artist
Diana Collins: printmaker and art psychotherapist